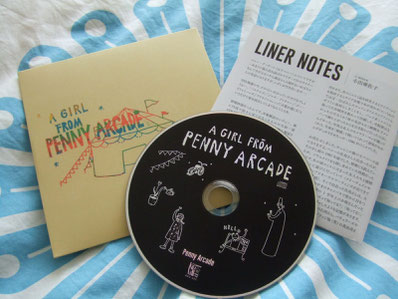 There's a whole lot of C86 revivals going on but have you heard anything from Japan from those days?
Penny Arcade is one of the very few Japanese indie bands, like our B-flower, contemporary to C86 era. The first gig I have ever organized in 1988  (under Boshi Label name) featured them, along with Lollipop Sonic (pre-Flipper's Guitar) and Debonaire.
The difference between them and many Shibuya-kei bands that came a few years later is that they were directly influenced by UK scene post-punk in real time. The air they hang is different. The vocalist Satori and the guitarist Ishida in the interview on the label Kili Kili Villa's website say they met at ticket queue for Aztec Camera gig in Tokyo in 1985.
Incidentally, I got to know them via a friend I met in Aztec Camera fan club. She was the writer of the now cult fanzine Eikoku Ongaku, and contributed the liner note for this release. Aztec Camera played a big part in this little late-80s Japanese indie scene - the live cassette release of the first Boshi Label event, Akko-chan's Anorak Party,  came proudly with cat. no. Roddy 001.
Penny Arcade's cassette-only album, released on their final gig in 1989, plus other material, has just been re-released as CD in Japan. I think they sound brilliant, even more so than I remembered. I love Satori's strong and elastic vocal in the way that it isn't cutey girly like many other Japanese girl vocals. And that ringing guitar! The guitarist went on to form Venus Peter (see Frosty 16).
The label's shop doesn't do international shipping, but if anyone's interested we can try to get some copies in.