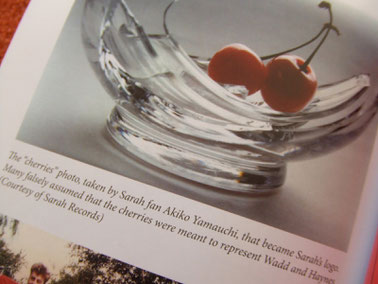 New book on Sarah Records called Popkiss is out on Bloomsbury (wow). I haven't read it yet, but looks interesting, and would be interesting to read how the story is told from different perspective. (Everyone is bound to feel differently - one history is one hundred different stories.)
I've got a couple of little mention there and one of my photos for the label is on colour page. It's been a while since I last saw that photo in colour, which was featured on their Air Balloon Road CD in b/w.
One small disappointment, and to my husband's delight (in teasing, obviously), is that I am mentioned as a "Japanese Sarah fan". Twice. Not technically wrong as I was a Sarah fan and I am a Japanese, but I was there before Sarah as a fanzine writer.  My fanzine, 5000 Miles from George Square, was the only one in Japan that carried a Sha-la-la flexi. So, in the context of Sarah Records story, would've liked to be known as a fanzine writer. Or as a Sugarfrosty person if not that.
But hey, recognition is pleasing. Those Japanese cherries will stay there in one hundred indiepop stories, whoever I am supposed to be is not very important at all.