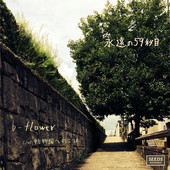 B-flower's new single released today. Been following "b-flower" tweets all day to see the open-arm welcome by the fans. Both tracks released today are not new, but totally re-recorded. Original version of The Eternal 59th Second is found in their final Toshiba EMI album from 1998, "B-flower" (which is digitally available at iTunes Japan only).  On the Eastbound Bus was in "Nobody Knows This is Nowhere" CD ep from 1992. 
But knowing the songs didn't seem to have spoiled the fun for the old fans. They saw the band is still moving forward, they felt something new there. So it's been very exciting for me to be able to read the tweets today, even though we weren't involved in the actual release, which was done by Hachino B-flower's own label Seeds Records.
Today I felt, the joy of music does extend much further than actual song. I am grateful that B-flower have come back to music again. That fact itself gives old fans some kind of role model, even. B-flower aren't young any more. Neither are we, the old fans. But what the heck. There are still many bands who can create great music just as they did back in 80s and 90s, like the June Brides. We respect them for their courage and enthusiasm. They need our support. 
Most of you outside Japan will have neither of the original tracks. So, this is like totally new! Lucky you! You can download them at iTunes Store. While you're there, also available is the first comeback single after more than a decade, suitably called After All This Time. 
---